How Many Ounces in a Cup
When you're in the kitchen following a recipe or preparing a meal you often come across measurements like cups and ounces. How Many Ounces in a Cup
Understanding Standard Cup Measurements
Before we get into the specifics of ounces let start by clarifying what a standard cup measurement is. In the United States a standard cup is a widely accepted volume measurement used in cooking and baking. It is commonly denoted as "cup" and is a part of the U.S. customary system of measurements.
The Fluid Ounce fl oz
In the world of ounces it crucial to differentiate between fluid ounces and dry ounces. A fluid ounce abbreviated as fl oz is a unit of volume typically used to measure liquids. This includes ingredients like water milk and oil.
Dry Ounces vs. Liquid Ounces
On the other hand dry ounces are used to measure dry ingredients such as flour sugar and grains. These are different from fluid ounces in that they measure weight not volume.
How to Convert Cups to Fluid Ounces
Converting cups to fluid ounces is relatively straightforward. Since 1 cup equals 8 fluid ounces you can easily convert by multiplying the number of cups by 8. For example 2 cups equal 16 fluid ounces.
How to Convert Cups to Dry Ounces
Converting cups to dry ounces can be a bit more challenging due to ingredient variations. To convert you'll need to know the specific weight of the dry ingredient in ounces per cup. Using a kitchen scale is the most accurate method for such conversions.
Common Culinary Conversions
In the culinary world precision is key. Here are some common conversions to help you navigate your recipes more easily:
1 tablespoon tbsp = 0.5 fluid ounces
1 cup = 16 tablespoons
1 cup = 8 fluid ounces
1 cup of allpurpose flour = 4.25 dry ounces
The Metric System vs. U.S. Customary System
It important to note that the United States primarily uses the U.S. customary system which includes cups and fluid ounces. In contrast the metric system used in many other parts of the world relies on milliliters and grams for measurements. Understanding both systems can be useful for international cooking.
Measuring Cups and Accuracy
When measuring using the appropriate measuring cups is essential for accuracy. Measuring cups come in various sizes and are labeled for either dry or liquid ingredients. Using the right type of cup for the job ensures your recipes turn out as intended.
Baking and Cooking with Precision
For baking in particular precision in measurements can make or break a recipe. Ingredients must be measured accurately to achieve the desired texture and taste in your final product. Don't underestimate the importance of getting your measurements just right.
Handy Tips for Accurate Measurements
Here are some handy tips to ensure you get the most accurate measurements:
Use leveled measuring cups for dry ingredients.
Fill liquid measuring cups to the desired mark at eye level.
Be cautious when measuring ingredients like brown sugar; pack it down firmly.
Invest in a kitchen scale for precise dry ingredient measurements.
Final Word
In the world of culinary arts understanding measurements is a fundamental skill. Knowing how many ounces are in a cup whether for liquid or dry ingredients is a key aspect of cooking and baking. Accurate measurements lead to successful recipes so take the time to measure with care. Whether you're making a batch of cookies or a savory sauce precision in your measurements will ensure culinary success.
Frequently Asked Questions FAQs
1. Is a cup always equal to 8 fluid ounces?
Yes a standard cup is always equal to 8 fluid ounces in the U.S. customary system.
2. Can I use a liquid measuring cup for dry ingredients?
It best to use the appropriate type of measuring cup for the ingredient you're measuring. Liquid measuring cups for liquids and dry measuring cups for dry ingredients.
3. How can I convert metric measurements to U.S. customary measurements?
You can use online converters or conversion charts to convert between metric and U.S. customary measurements.
4. Why is precise measurement important in baking?
Precise measurement is crucial in baking because even small variations in ingredient quantities can significantly impact the final product texture and flavor.
5. What is the equivalent of 1 cup in the metric system?
1 cup is approximately equal to 240 milliliters in the metric system.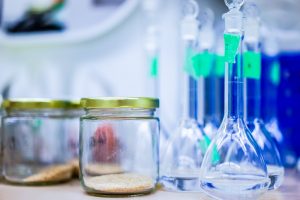 Source of Image: https://www.pexels.com/photo/two-clear-glass-jars-beside-several-flasks-248152/