How to calculate bmi
Understanding BMI Body Mass Index
In the pursuit of a healthier lifestyle understanding your body composition is crucial. Body Mass Index BMI is a fundamental measurement that provides insights into your body weight relative to your height. This article delves into how to calculate BMI its importance and much more.
How to Calculate BMI
Calculating your BMI is a straightforward process that involves using a simple formula:
BMI = Weight in Kilograms / Height in Meters²
This formula takes into account your weight and height and the result provides you with a numerical value indicating where you fall on the BMI scale.
Interpretation of BMI Values
BMI values are categorized as follows:
Below 18.5: Underweight
5 to 24.9: Normal weight
25 to 29.9: Overweight
30 and above: Obesity
Understanding your BMI value is crucial because it offers valuable information about your health and fitness.
Factors Affecting BMI
BMI is not a onesizefitsall measurement. Several factors can influence your BMI such as age gender activity level and the composition of your body muscle vs. fat. All these elements need to be considered when interpreting your BMI value.
Why Calculating BMI is Important
Calculating your BMI is not just a number game; it has significant health implications. It can help assess your risk for various diseases and provide insights into your overall wellbeing.
Measuring Your Height and Weight
Accurate measurements are key to getting an exact BMI value. Make sure to measure your height and weight with precision for the most reliable results.
Calculating Your BMI
To calculate your BMI follow these simple steps:
Measure your weight in kilograms.
Measure your height in meters.
Use the formula: BMI = Weight / Height².
Interpret the result using the BMI categories mentioned above.
Interpreting Your BMI
Understanding your BMI value is crucial for your health assessment.
BMI Categories
Let explore the different BMI categories:
Underweight: A BMI below 18.5 indicates that you may be underweight which can have its health risks.
Normal weight: Falling within the 18.5 to 24.9 range suggests that your weight is healthy for your height.
Overweight: A BMI between 25 and 29.9 indicates that you may be carrying excess weight.
Obesity: A BMI of 30 or higher suggests that you are at risk of obesityrelated health problems.
Limitations of BMI
While BMI is a useful tool it not without its drawbacks. It doesn't account for factors like muscle mass bone density and overall body composition. It is a general measurement and may not be applicable to everyone.
Alternative Measures of Health
Other measurements like waisttohip ratio and body composition provide additional information about your health that can complement your BMI analysis.
Maintaining a Healthy BMI
If you want to achieve and maintain a healthy BMI consider the following tips:
Eat a balanced diet.
Exercise regularly.
Manage stress.
Get enough sleep.
Final Word
In summary understanding and calculating your BMI is a valuable step in monitoring your health and fitness. While BMI is a useful tool it essential to recognize its limitations and consider other factors such as body composition and overall health. If you're uncertain about your BMI or its implications seek professional guidance. Your health is a journey and knowing your BMI is one of the steps towards a healthier you.
FAQs
Is BMI the only measurement of health?
No BMI is just one of many measurements. It provides a general assessment but does not account for all aspects of health.
Can I change my BMI?
Yes you can change your BMI through a healthy diet exercise and lifestyle adjustments.
Is a high BMI always a sign of poor health?
 Are there any exceptions to the BMI categories?
Yes some individuals such as athletes may have higher BMIs due to muscle mass which doesn't necessarily indicate poor health.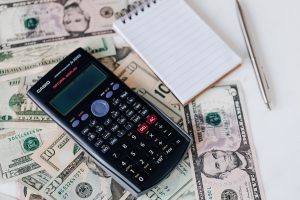 Source of Image: https://www.pexels.com/photo/calculator-and-notepad-placed-on-usa-dollars-stack-4386366/