How to calculate percentage
In our daily lives we encounter percentages everywhere from calculating discounts during a sale to understanding interest rates on loans. Percentage calculation is a fundamental mathematical skill that allows us to express part of a whole as a fraction of 100. In this article we will delve into the art of calculating percentages its various applications and some handy tips and tricks to make it easier.
The Formula for Calculating Percentage
Calculating a percentage is a straightforward process. It involves taking a part of a whole and expressing it as a fraction of 100. The basic formula is:
This formula is the foundation for all percentage calculations.
Calculating Percentage Increase or Decrease
Percentage calculation isn't just about finding a fraction of a whole; it also used to determine the change in values. To calculate percentage increase or decrease you can use the following formula:
Percentage Change = New Value  Old Value / Old Value x 100
For instance if your salary increased from $2000 to $2500 you can calculate the percentage increase as:
Percentage Increase = $2500  $2000 / $2000 x 100 = 25%
This formula is valuable for understanding growth or reduction in various scenarios.
Percentage Calculations in Daily Life
Understanding how to calculate percentages can simplify everyday tasks. Whether you're figuring out the tip at a restaurant determining discounts during a sale or analyzing data percentages play a crucial role. Here are some reallife examples:
Tipping: When you want to leave a 15% tip on a $40 bill you can easily calculate it.
Discounts: During a 30% off sale you can quickly compute the discounted price of an item.
Fitness: Tracking your weight loss or muscle gain in terms of percentages.
Applications of Percentage Calculation
Percentages have a broad range of applications both in personal life and various industries. Here are some key areas where percentages are commonly used:
Business and Finance: Profit margins interest rates and financial analysis rely heavily on percentages.
Education: Grading test scores and academic performance are often expressed as percentages.
Statistics: In statistical analysis percentages help interpret data and draw meaningful conclusions.
Health and Fitness: Monitoring body fat percentage weight loss and nutritional intake.
Percentage Calculation Tools
While manual percentage calculation is essential there are various tools and software available to make the process more efficient. Calculators and spreadsheet programs can handle complex percentage calculations with ease. However it essential to understand the underlying principles to use these tools effectively.
Tricks and Shortcuts for Quick Percentage Calculation
In daily life there are situations where quick mental math can save the day. Here are some tips and shortcuts to make percentage calculations more accessible:
10% Rule: Calculating 10% of a value and then scaling it up or down is a quick way to find other percentages.
Half and Double Rule: Knowing how to halve or double a percentage is handy for calculations.
Fraction to Percentage Conversion: Converting common fractions to percentages helps in various scenarios.
Common Percentage Mistakes to Avoid
While percentage calculation is essential it not without its pitfalls. Here are some common mistakes to watch out for:
Confusing percentage with its decimal or fraction equivalent.
Neglecting to use parentheses when calculating percentage change.
Mixing up the concepts of percentage and percentage points.
Percentage Calculation in Education
In the education sector percentages are often used to evaluate student performance. Your grades test scores and even your GPA are expressed as percentages. Understanding these percentages can provide valuable insights into your academic progress.
Percentage Calculation in Sales and Discounts
Businesses frequently use percentages to attract customers and increase sales. Understanding how to calculate discounts and find the best deals can save you money. Whether it a "buy one get one 50% off" offer or a straightforward 20% discount knowing how to calculate the savings is essential for smart shopping.
Percentage Calculation in Finance
In the world of finance percentages are the foundation of many calculations. Whether you're analyzing investments calculating interest rates on loans or determining your return on investment percentages play a crucial role in financial decisionmaking.
RealLife Examples and Case Studies
To bring the concepts of percentage calculation to life let explore a few case studies:
Case Study 1: Discounts at a Department Store Imagine you're shopping for clothes at a department store. There a 25% discount on a $80 dress. How much will you save on this purchase?
To calculate the savings use the formula for finding the percentage of a number:
Savings = Discount Percentage x Original Price Savings = 25% x $80 = 0.25 x $80 = $20
You'll save $20 on this dress thanks to the 25% discount.
Case Study 2: Calculating Interest on a Loan Suppose you've taken out a loan for $10000 at an annual interest rate of 5%. How much interest will you pay in a year?
To find the interest use the formula for calculating a percentage of a number:
Interest = Interest Rate x Principal Amount Interest = 5% x $10000 = 0.05 x $10000 = $500
You'll pay $500 in interest over a year.
Percentage Calculation in Statistics
In statistics percentages are crucial for data analysis. They help make data more accessible and interpretable. Whether you're looking at survey results economic trends or any other statistical data percentages play a vital role in understanding the bigger picture.
Challenges in Percentage Calculation
While percentage calculation is a valuable skill it can become challenging when dealing with complex scenarios. For instance calculating compound interest or working with multiple percentages can be daunting. However with practice and a firm understanding of the basics these challenges can be overcome.
Final Word
In percentage calculation is a fundamental skill that finds applications in various aspects of our lives. From everyday tasks like calculating tips to making informed financial decisions percentages are essential. Understanding the basic formula for percentage calculation and exploring its practical applications can empower you to make better choices and navigate the world of percentages with confidence.
FAQs
Why are percentages important in everyday life?
What is the difference between a percentage and a percentage point?
Can you provide more examples of calculating percentage change?
How do businesses use percentages in pricing and sales strategies?
Are there any shortcuts for calculating percentages mentally?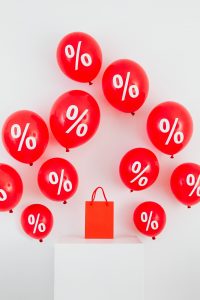 Source of Image: https://www.pexels.com/photo/a-red-paper-bag-in-the-middle-of-red-balloons-with-percentage-symbols-5625130/