How to Delete Your Instagram Account
Have you ever considered deleting your Instagram account? Whether it due to privacy concerns the need for a digital detox or other personal reasons knowing how to do it can be valuable. In this guide we will walk you through the process step by step and provide insights into the reasons alternatives and emotional aspects of this decision.
Reasons to Delete Your Instagram Account
Digital Detox
Instagram can be addicting and some people find it necessary to take a break from constant scrolling.
Preparing to Delete Your Instagram Account
Before you proceed with deleting your Instagram account consider the following steps:
Back Up Your Data: Ensure that you've saved any photos or videos you want to keep.
Inform Your Connections: If you have close friends or important connections on Instagram let them know about your decision in advance.
Alternative Contact Information: Make sure your friends have alternative ways to reach you outside of Instagram.
StepbyStep Guide to Deleting Your Instagram Account
Now let dive into the process of deleting your Instagram account:
Confirm Your Decision: Instagram will ask you one last time to confirm your choice.
Goodbye Instagram: Your account will be deleted and you'll be logged out.
What Happens After Deleting Your Instagram Account
Once you've deleted your Instagram account it important to understand the consequences:
Loss of Data: All your photos videos and data will be permanently erased.
Follower Loss: You'll lose all your followers and followings.
Username Availability: Your username will become available for others to use.
Alternatives to Deletion
If you're not ready to delete your Instagram account entirely consider these alternatives:
Follow the onscreen instructions.
Make Your Instagram Account Private
If you're concerned about privacy consider making your account private:
Go to your profile.
Click the three horizontal lines in the topright corner.
Tap "Settings."
Scroll down and select "Privacy."
Enable the "Private Account" option.
The Emotional Side of Deleting Instagram
Deleting Instagram can be an emotional decision. Here how to deal with the feelings that may arise:
Coping with FOMO Fear of Missing Out
Stay connected through other social platforms.
Plan inperson meetups with friends.
Remember that social media isn't the only way to stay updated.
Report abusive accounts.
Block users causing harm.
Reach out to professionals if the situation worsens.
Final Word
Deciding to delete your Instagram account is a personal choice and it essential to consider the reasons consequences and alternatives before making this decision. Whether you're taking a temporary break or saying goodbye for good prioritize your wellbeing and mental health in the digital age.
FAQs
Q: Will my deleted Instagram data be retrievable?
A: No all your data is permanently erased after deleting your Instagram account.
Q: How can I report cyberbullying or harassment on Instagram?
A: You can report such accounts by going to their profiles clicking the three dots in the topright corner and selecting "Report." Follow the onscreen instructions.
Q: Are there professional services that can help me cope with online harassment?
A: Yes there are various organizations and professionals who specialize in online harassment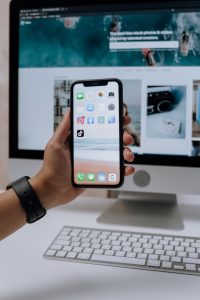 Source of Image: https://www.pexels.com/photo/holding-a-smartphone-in-front-of-an-imac-5082581/