How to Screenshot on Mac
Screenshots are invaluable when it comes to capturing and sharing moments on your Mac. Whether you want to save a hilarious meme document an error message or show off your latest high score knowing how to take screenshots efficiently is a must. In this guide we'll delve into the various builtin tools advanced options and additional tips for a seamless screenshot experience.
Builtin Mac Screenshot Tools
Default Shortcuts
MacOS simplifies the screenshot process with intuitive keyboard shortcuts. Press Command ⌘ + Shift + 3 to capture the entire screen instantly. For a selected portion use Command ⌘ + Shift + 4 and drag to highlight the desired area. To capture a specific window press Command ⌘ + Shift + 4 then press Spacebar and click on the window.
Advanced Screenshot Options
Timed Screenshots
Need a moment to set up your screen? Use the timed screenshot feature by adding Control to any of the default shortcuts. This allows a 10second delay giving you time to prepare.
Touch Bar Capture
If you have a MacBook Pro with a Touch Bar capture its content by pressing Command ⌘ + Shift + 6.
Saving and Organizing Screenshots
Efficiently managing screenshots is crucial for staying organized. By default screenshots are saved on the desktop but you can change this by altering the save location in the Options menu that appears when using Command ⌘ + Shift + 4.
Editing Screenshots on Mac
Markup Tool
MacOS offers a builtin Markup tool for basic edits. After capturing a screenshot click on the preview thumbnail and then click Markup. Here you can add text shapes and even your signature.
ThirdParty Apps
For more advanced editing features consider thirdparty apps like Snagit or Skitch. These apps offer a plethora of tools for enhancing and annotating your screenshots.
Screen Recording on Mac
Need to capture more than just a still image? Mac screen recording feature is your goto tool. Press Command ⌘ + Shift + 5 to access the recording options including the ability to record the entire screen or a selected portion.
Troubleshooting Screenshot Issues
Blank Screenshots
If your screenshots are turning up blank it could be a permission issue. Ensure that the app you're capturing is allowed to be recorded in your privacy settings.
File Not Saving
If your screenshots aren't saving check if your Mac is running low on storage. Clearing up some space might resolve the issue.
Using Terminal for Screenshot Customization
For users comfortable with Terminal commands customizing screenshot settings is possible. Change the default file format by using defaults write com.apple.screencapture type [format] replacing [format] with your preferred file type.
ThirdParty Apps for Screenshots
While MacOS provides robust screenshot capabilities thirdparty apps offer additional features. Apps like Lightshot provide quick annotation tools while Greenshot allows for more control over capturing specific areas.
Sharing Screenshots
AirDrop and Messages
Quickly share your screenshots using AirDrop or Messages. After capturing the screenshot click on the preview thumbnail then select the sharing option at the bottom.
Cloud Services
For seamless access across devices consider syncing your screenshots with iCloud or other cloud services. This ensures your screenshots are always available when you need them.
Security Concerns with Screenshots
While screenshots are convenient be cautious when sharing sensitive information. Avoid capturing private data and if necessary use editing tools to blur or block out sensitive content.
Integration with Cloud Services
Take advantage of MacOS integration with cloud services to automatically sync your screenshots. This ensures you can access your screenshots on any device anytime.
Updates in Latest macOS Versions
With each macOS update Apple introduces improvements to the screenshot experience. Check for any new features or changes in the latest version of macOS to stay uptodate.
User Tips and Tricks
Batch Renaming
Save time by batch renaming your screenshots. Select multiple files rightclick and choose Rename Items for a more organized collection.
Custom Keyboard Shortcuts
Create custom keyboard shortcuts for specific screenshot actions using the Keyboard preferences in System Preferences.
Final Word
Mastering the art of screenshotting on your Mac opens up a world of possibilities. From capturing hilarious moments to troubleshooting technical issues the builtin tools and additional features ensure you're wellequipped. Experiment with different shortcuts explore thirdparty apps and tailor your screenshot workflow to suit your needs. Remember the more you practice the more effortlessly you can capture and share those unforgettable moments.
FAQs                       
Q: Can I change the default save location for screenshots?

A: Yes you can change the default save location by pressing Command ⌘ + Shift + 4 and selecting Options.

Q: Are thirdparty apps safe for screenshotting on Mac?

A: Most reputable thirdparty apps are safe but ensure you download from trusted sources to avoid potential security risks.

Q: Why are my screenshots blank?

A: Blank screenshots may occur due to permission issues. Check your privacy settings to ensure the app is allowed to be recorded.

Q: How can I batch rename my screenshots?

A: Select multiple files rightclick and choose Rename Items for efficient batch renaming.

Q: What the advantage of using cloud services for screenshots?

A: Cloud services ensure seamless access to your screenshots across devices providing flexibility and convenience.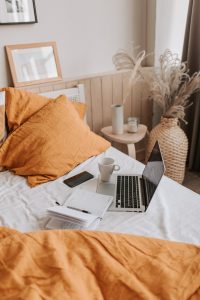 Source of Image: https://www.pexels.com/photo/laptop-with-copybook-and-cup-of-coffee-on-bed-sheet-4050430/