How to Solve a Rubik Cube
The Rubik Cube an iconic 3D combination puzzle has captivated minds globally since its invention. Whether you're a beginner intrigued by its colorful challenges or a seasoned speedcuber aiming for recordbreaking times this article will guide you through the journey of solving a Rubik Cube.
Introduction
Brief Overview of the Rubik Cube
The Rubik Cube invented by Hungarian sculptor and professor Ernő Rubik in 1974 has become a symbol of intellectual prowess and perseverance. Its six faces each made up of nine smaller squares of six solid colors form a cube that can be twisted and turned in various ways.
Popularity and Appeal of Solving Rubik Cube
Solving the Rubik Cube is more than just a pastime; it a challenge that engages the mind and offers a sense of accomplishment. The cube popularity has soared over the years with enthusiasts ranging from casual solvers to competitive speedcubers.
Understanding the Basics
Structure of a Rubik Cube
Before delving into solving techniques it crucial to understand the basic structure of a Rubik Cube. The cube consists of three layers—top middle and bottom—each containing nine smaller squares.
Different Faces and Colors
The six faces of the Rubik Cube are adorned with distinct colors: white yellow blue green red and orange. The challenge lies in aligning these colors on each face.
Notation System for Cube Movements
To communicate cube movements effectively a notation system is used. Letters represent different turns: R right L left U up D down F front and B back. Adding an apostrophe denotes a counterclockwise turn and 2 indicates a double turn.
III. Getting Started
Choosing the Right Rubik Cube
Selecting the right cube is crucial for a smooth solving experience. Beginners often start with standard 3×3 cubes while advanced cubers may explore different sizes and types.
Familiarizing Yourself with the Cube
Take time to acquaint yourself with the cube movements. Understanding how twists and turns affect the arrangement of colors is fundamental to solving.
Learning the Algorithms
Introduction to Algorithms
Algorithms are the heart of solving a Rubik Cube. These are sequences of moves designed to manipulate specific pieces without disrupting others. Embrace them as your toolkit for unraveling the cube complexities.
Basic Algorithms for Solving Layers
Start with fundamental algorithms to solve individual layers. Focus on mastering techniques for solving the top middle and bottom layers separately. This builds a solid foundation for tackling the entire cube.
Advanced Algorithms for Completing the Cube
As you progress delve into advanced algorithms that bring the entire cube into harmony. These algorithms involve more intricate sequences and demand precision. Patience is key; practice until these movements become second nature.
Practice and Patience
Importance of Regular Practice
Consistency is the key to improvement. Dedicate regular practice sessions to reinforce your understanding of algorithms. Over time your solving speed will naturally increase.
Strategies for Efficient Learning
Break down the solving process into manageable chunks. Focus on specific algorithms and practice them until they become ingrained in your muscle memory. This approach enhances efficiency and accelerates your learning curve.
Overcoming Common Challenges
Solving a Rubik Cube is a journey filled with challenges. Don't be discouraged by initial difficulties. Identify specific stumbling blocks and address them systematically. Overcoming challenges contributes significantly to skill development.
Speedcubing Techniques
Introduction to Speedcubing
Speedcubing is the art of solving Rubik Cube with incredible speed and precision. Explore the world of competitive speedcubing and learn how to optimize your solving techniques for faster times.
Finger Techniques for Faster Solving
Speedcubers employ specialized finger techniques to execute algorithms swiftly. Experiment with various finger movements to find a technique that suits your style. Over time your fingers will move with remarkable dexterity.
Tips for Improving Your Speedcubing Skills
Finetune your speedcubing skills with strategic tips. Focus on lookahead techniques where you plan your moves ahead and practice efficient cube rotations. These elements contribute significantly to achieving faster solve times.
VII. Troubleshooting Common Issues
Identifying Mistakes in Solving
Mistakes are part of the learning process. Learn to identify and correct errors systematically. This skill not only improves your problemsolving abilities but also enhances your overall understanding of the cube.
Common Pitfalls and How to Avoid Them
Anticipate common pitfalls such as misalignments or incorrect sequences. Develop a keen eye for detecting errors early in the solving process. Proactive problemsolving minimizes setbacks and contributes to a smoother solving experience.
XII. Final Word
Recap of Key Points
Solving a Rubik Cube is a rewarding endeavor that combines logic practice and perseverance. From understanding the basics to mastering advanced techniques each step contributes to your overall skill.
Encouragement for Readers to Start Solving
Don't hesitate to embark on your Rubik Cube journey. Embrace the challenges celebrate small victories and enjoy the mental stimulation this iconic puzzle provides. Remember every solver was once a beginner.
XIII. Frequently Asked Questions
How long does it take to learn solving a Rubik Cube?
The learning duration varies but with consistent practice many beginners achieve proficiency within a few weeks.
Are there different types of Rubik Cubes for beginners?
Yes standard 3×3 cubes are recommended for beginners offering a balanced challenge.
Can anyone learn to solve a Rubik Cube?
Absolutely! With dedication and practice anyone can master the art of solving a Rubik Cube.
What is the world record for the fastest Rubik Cube solve?
As of my knowledge cutoff in January 2022 the record stood at an astonishing 3.47 seconds.
How can I join a Rubik Cube community?
Online platforms and local events offer opportunities to connect with fellow cubers. Explore forums social media groups and competitions to join the community.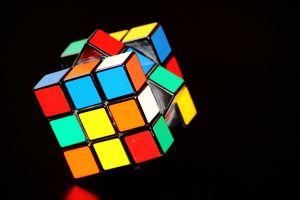 Source of Image: https://www.pexels.com/photo/colorful-color-play-concentration-54101/