How to unlock the iPad passcode without a computer
Apple's products come up with a strong security system. When you set up your iPad with a password, no one can access your device. However, if you forgot the passcode of your iPad and attempt the wrong password 10 times, then iPad would be disabled. If you want to know How to unlock an iPad passcode without a computer then you are at the right place. In this article, I will give you proven ways to unlock iPad passcode without a computer so, read this article from start to end to get useful information.
Unlock the iPad passcode with iPhone
If you forgot your iPad's passcode then you need a computer with iTunes to recover the iPad passcode, what to do when you do not have a computer. You need to get help from iCloud but this method needs to set up the "Find MY" function on your iPad. You can recover the passcode of your iPad with your iPhone by following the steps given below:
Go to the com/findfrom your iPhone
If you get prompt then sign in with your Apple ID
Select and hit "All devices" which is located at the top of the browser window
There, you should select the device that you want to erase or remove
After selecting the device, you need to click "Erase [Devices] to remove your device
When the erasing process will complete, you need to complete iPhone unlock then you can restore your device from either backup or set it up as a new option.
Unlock the iPad passcode with Siri
Siri is a virtual assistant, whichis designed to answer questions and give recommendations to users. You can ask Siri to perform actions by giving it voice commands. You can unlock your iPad passcode with the help of Siri. Follow the steps below to do it:
Activate Siri by pressing the Home button for a long time. Ask Siri to open the app that you do not have on your iPad
After that, Siri will scan your iPad and tells you that the app that you said does not exist on the device. Additionally, it will ask you to search for the app from the App store and brings up the App store icon on your screen
Now, you need to click on the App store icon that is displayed on your screen and a browser window will appear on screen
You can get the task slide preview by selecting the last app or you can update other You can also get this same effect by double pushing the Home button
Now, you need to close the active front screen task
You can operate your iPad without a passcode
It is the easiest way because it does not require you to enter your Apple ID or do anything hard.
Unlock the iPad passcode with iCloud
ICloud is software that is built into every Apple device. It is a cloud storage and computing service, which enable users to store images, files, document, or all type of data. It is a powerful backup tool and it enables users to unlock their iPad without a computer. Follow the steps given below to unlock iPad passcode with iCloud:
First, you need to launch a browser on any iOS device and then go to icloud.com
Then you need to sign in to your iCloud account by entering your credentials
Now, click on "Find My iPad" and select "iPad" from the given devices
After selecting the iPad that you are using, you need to click on the "erase iPad" button to erase the data and setting
Your iPad passcode is removed. Now, you can operate your iPad freely
Unlock the iPad passcode with the Apple ID password
Using this way, you can easily unlock your iPad screen password. You can try erasing your iPad wirelessly if it has been updated to iPadOS 15.2 or later. To use this method, your iPad must be connected to the Wi-Fi or cellular network. Follow the steps below to unlock your iPad passcode with your Apple ID password:
Turn on your iPad and enter your passcode. You will get a security Lockout prompt on your iPad's lock screen after entering the wrong passcode many times
An option "Erase iPad" will appear in the bottom corner of the screen
Now, try clicking on "Erase iPad" again to confirm the removal of all the content and setting
Enter your Apple ID password
Click "Erase iPad" to erase and reset your iPad. You will see a "hello screen" when your iPad will restart
Follow the instruction displayed on the screen to again set up your iPad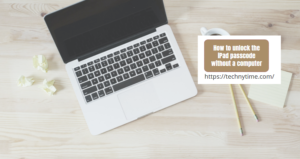 Unlock iPad Passcode with Auto Erase
You can also get an Auto-erasing function to prevent others from using malicious acts to break the security of your iPad. If this option is enabled, it will automatically remove all data after 10 failed attempts of passcodes. Your passcode can be erased automatically after entering the wrong passcode 10 times. Follow the steps below to enable the Auto Erase option:
Go to the "setting" on your iPad
Find "Face ID & Passcodes" or "Touch ID & Passcode" from the options
Enter your screen Passcode to access the function
Turn on the "Erase Data" option and confirm it with "Enable"