What is my ip
Introduction
In our increasingly connected world understanding the basics of how the internet functions can be quite beneficial. One fundamental aspect of online communication is your IP address. In this article we will delve into the intricacies of addresses including what they are how to find yours and why it crucial to be aware of this digital identifier.
IPv4: This is the older and more commonly used version.
IPv6: As the internet expands IPv6 is becoming more prevalent. It features a longer format such as 2001:0db8:85a3:0000:0000:8a2e:0370:7334.
Now that we know the types let explore.
Using a Search Engine: Simply search "What is my" in your preferred search engine. The results will display your public IP address.
Using the Command Prompt or Terminal: Techsavvy individuals can open the command prompt Windows or terminal macOS/Linux and type "ipconfig" or "ifconfig" respectively to find their local IP address.
Understanding your address is not just a tech enthusiast hobby; it has realworld implications.
Security Reasons: Being aware of your address helps you identify potential security threats and vulnerabilities.
Troubleshooting Network Issues: When you encounter network problems knowing your address can assist in diagnosing and resolving issues.
Using a VPN Virtual Private Network: A VPN encrypts your internet connection and masks your address.
Proxy Servers: Proxy servers act as intermediaries between you and websites hiding your address from prying eyes.
How Does Address Assignment Work?
Your address assignment can be dynamic or static.
Dynamic Host Configuration Protocol DHCP: Most home networks use DHCP which automatically assigns addresses to devices.
Static Addresses: Some businesses and advanced users prefer static addresses which remain fixed.
The Dynamic Nature of Addresses
addresses can be dynamic or static. Understanding the difference is essential:
Dynamic Addresses: These addresses change periodically as they are leased by your internet service provider.
Static Addresses: These remain constant and are typically used for specific purposes like web servers.
The Future of Addresses
The growth of the internet has led to the exhaustion of available IPv4 addresses. This has prompted the transition to IPv6 which offers a vastly expanded address space.
 Address Myths
There are some common misconceptions about addresses. Let dispel a few:
Tracking Individuals: Your address can provide a general location but not personal identification.
Personal Information in Your Address: Contrary to popular belief your name and home address are not embedded in your address.
FAQs
Can my IP address reveal my physical location?
Yes but only in a general sense. It can pinpoint your city or region but not your exact address.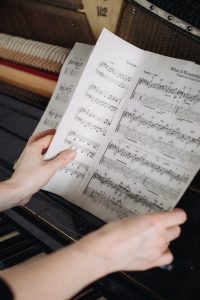 Source of Image: https://www.pexels.com/photo/woman-turning-pages-of-sheet-music-at-a-piano-18940651/